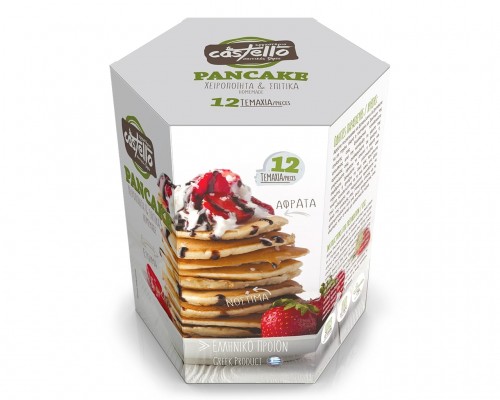 Weight/Dimensions
600g
Packing

12 τμχ/κουτί
Microwave

1000 W / 30 sec
Oven

180oC / 10 min
Plateau-Frying pan

2 min
Handmade

Serving Suggestions
Our new Pancakes series, 100% handmade & 100% homemade, are easy & quick to prepare. Allow the pancakes to defrost and then heat them in a frying pan, plateau or toaster using the butter of your choice. Alternatively place the filling of your choice in the pancakes before defrosting and then reheat them in the oven or microwave (depending on the filling) and serve. Besides presenting them as single pancakes, dare to create an original cake of your own, by placing them on top of each other, adding the ingredients of your choice between and around layers. You can also use the pancakes to replace bread in a special toast or wrap variation, assorted with cold cuts & cheese.
12 ready pancakes pack
Code number : 15008
During the exciting times we live in, we have always been keen to explore new and delicious horizons, without loosing track of our values which have been the axis of our progress since day one. Thus, after carefully observing the new trends and need we decided to enrich our product range with this pack of ready made pancakes. A delightful yet kind of new trend in the domestic market, our ready made pancakes may be new to some but still have a familiar allure as they are a reminder of the Greek-style pancakes our grandmothers used to treat us with for breakfast.